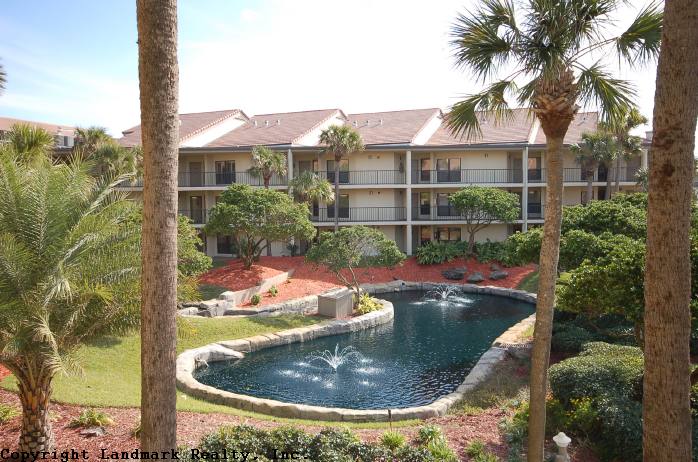 Ocean Gallery Condos are located near St. Augustine Beach, Florida about 7 miles south of the historic section of Saint Augustine. It is the largest beachfront condominium on Anastasia island, with 418 condos and twenty one single family homes. The property is over forty acres of oceanfront land. There are five pools, two racquet ball courts, four tennis courts and even a basketball court and weight room. There is a 24 hour manned gated security entrance. All condos at Ocean gallery have access to the beach with two boardwalks.
The property at Ocean Gallery is laid out in two sections. See the ( site plan ). The "Ocean front buildings" and "The Villages".
The "ocean front units" are all 2 or 3 bedroom condos that are either one or two levels. There are 4 buildings; Pacifica, Aegean, Caribe and Premiere Vistas.
The "village units" are 1 and 2 bedroom units that are either one or two levels. The villages are in three sections – Village Del Prado, (the North section), Village Del Lago (the center section), and Village Las Palmas (the South section). Each section has its own pool and lagoon area.
The homes at Ocean Gallery are located near the entrance at the front of the complex.
Ocean Gallery Condos are located between St Augustine Beach and Crescent Beach, Florida. About 10 minutes to the North of the condo is the nations oldest city, downtown Saint Augustine. There are many historical attractions in this section of town, including the fort, and St George Street.
To the South is Crescent Beach, home to one of the nations only natural inlets. There's great fishing, surfing and a national park with public access to Fort Matanzas.
Within walking distance from the condo are two grocery stores, many restaurants and Marsh creek country club, the only golf course on the island. It's about 50 miles to Daytona or Jacksonville from the condo.
Specializing in condos, my name is Rick Ginn. I live and work at Crescent Beach and my office is less than a 5 minute drive.