Colony Reef Club condos St. Augustine, Florida
Colony reef condominium are located between Crescent Beach and St. Augustine Beach, Florida. There are 132 condominium units, built in 1985. There are two sections at Colony Reef, the oceanfront buildings and the tennis villas.
Colony Reef's oceanfront section has some of the nicest condos on the beach. The buildings are in a "U" shape, with the direct oceanfront condos at the ends of the "U." From the direct oceanfront units, you can see from the pier at Saint Augustine Beach to the end of Crescent Beach.
In the tennis villas section of Colony Reef, the condominiums have 2 bedrooms and 2-2½ baths, and are either one or two levels. While these units are considered beachfront condos, they do not have good ocean views. They are more affordable. And, they share the same amenities as the rest of the condo.
There is plenty of parking, but no covered parking or garages. The oceanfront buildings have elevators and the tennis villas have stairs. At this time, there is an on-site rental office. Or, you may choose another off-site rental management company. We do not handle rentals.
Amenities offered at Colony Reef Condominium include: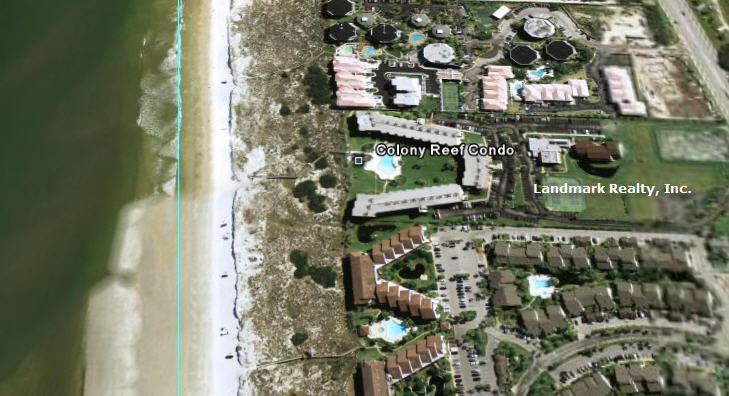 Ocean Front Pool
Indoor Lap Pool
Tennis Court
Fitness Center
Indoor Raquetball Court
Sauna
Whirlpool
Colony Reef Condominiums For Sale